Meet Our Staff
Veterinarians
Dr. Randal Bennett

DVM/Owner of Quitman Animal Clinic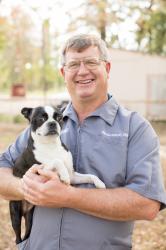 Dr. Bennett is originally from Oregon and Washington State. He was raised on a cattle ranch where he developed an interest in veterinary medicine. He attended Blue Mountain and Oregon State Universities and was a 1984 graduate of LSU School of Veterinary Medicine. Dr. Bennett purchased the practice from Dr. Joe Dawson's Estate in June 1999.
Dr. Bennett is a member of the Quitman City Council, the Quitman Development Corp., the Kiwanis, and the Quitman First United Methodist Church. His hobbies include piloting his Cessna 172 and running a registered Angus ranch, Raven Angus. He lives in East Texas with his wife, Vanessa; his children Monica, Adam, and Neal; grandchildren Bailey and Riley; and his animal companions, Abba the neutered male Abyssinian cat and Belle the Boston Terrier.
Dr. Bennett's veterinary experience:
Shamrock Veterinary Hospital/Great Plains Breeders Service — General Practice 1984-85
Lone Star Hereford, Resident Veterinarian, Asst Ranch Manager 1985-90
Texas Animal Health Commission, herd epidemiology 1990-92
Veterinary Biologic Systems Analysis, Nutrition Diagnostics 1992-94
Relief Veterinarian 1994-96
Quitman Animal Clinic 1996-present
Dr. Jeremy Smith

DVM/Owner of Quitman Animal Clinic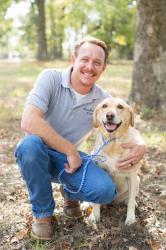 Dr. Smith grew up in nearby Emory and graduated from Rains High School. He then received a bachelor's degree in Animal Science from Texas A & M University-Commerce (formerly East Texas State University). He was accepted to Texas A & M University College of Veterinary Medicine in College Station in 1999. After graduation from veterinary school, he began working at Quitman Animal Clinic in 2003. He and his family now consider Quitman home.
Dr. Smith has been married to his lovely wife Jessica since 1999. They have three daughters, Jessie, Hannah, and Sarah. He also has two grandchildren Micah and Paisley. Dr. Smith and his family are active members of Sand Springs Baptist Church. Dr. Smith enjoys all aspects of practice, but he especially enjoys orthopedic surgery and equine medicine and surgery.
Dr. Michael Miller

Associate DVM
Dr. Miller joined Quitman Animal Clinic in June of 2013. He grew up in nearby Gilmer, TX. Working with his family's cattle and horses sparked his interest in veterinary medicine. After graduating from Union Hill High School, Dr. Miller earned his Bachelors' Degree in Biomedical Science from Texas A&M University. Dr. Miller graduated Texas A&M College of Veterinary Medicine in 2011. He returned home after graduation and spent his first two year practicing in Pittsburg, TX. June of 2016 he married the love of his life, Elizabeth Jackson.
Dr. Miller's professional interests include dentistry (for which he has completed specialty training at the prestigious Colorado Pet Dental Training with Dr. Tony Woodward), cattle medicine, small animal reproduction, and assisting with Canine Behavior Training; offered here at Quitman Animal Clinic. Outside of work, his hobbies include restoring his '78 Trans Am, hunting, fishing, and being an active member at New Beginning Baptist Church in Gilmer, TX. He currently resides in Gilmer with his wife Elizabeth, Red Heeler, "Cash", their two cats "Bertie" and "Bandit" (Elizabeth's luggage she brought into the marriage).
Dr. Paul Crabtree

Associate DVM
Dr. Paul Crabtree is a 2016 graduate of Texas A&M. He has been married to his beautiful wife, Samantha, since October 2016. They enjoy fishing and being in the great outdoors. They have 2 dogs, Dano, a Brittney Spaniel and Neco, an Australian Shepherd.
They also enjoy working their small herd of cattle in their spare time. His favorite food is a good ol' chicken fried steak.
Staff
Jessie Irby

Practice Manager
Jessie has been with Quitman Animal Clinic since July of 2012 and resides in Winnsboro with her husband and three children. She loves working out, being outdoors, and chasing her kids when she's not working.
Vicie Dixon, LVT

LVT
Hi, I'm Vicie Dixon. I was born and raised in upstate NY and graduated with an AAS in Veterinary Science Technology from SUNY Delhi in 1997. I spent the early years of my career in a feline only specialty practice and love the challenge of working with grumpy and misunderstood cats.
I joined Quitman Animal Clnic in 2019 and am a licensed veterinary technician. I have a heart for rescue, yet usually fail at fostering. I am a crazy cat lady, and have a menagerie of dogs, chickens, ducks, and goats as well.
If I'm not at work I can be found spending time with my boys and our "zoo" or reading a book.
Rosa Solis Castillo, LVT

Licensed Veterinary Technician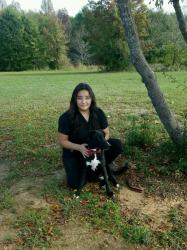 My name is Rosa Solis Castillo. I live in Mineola and graduated from Mineola High School in 2013. I attended TJC's LVT program and graduated on May 11th, 2018. I started at Quitman Animal Clinic at the end of May 2018. Quitman Animal Clinic is my first vet clinic to work at and the team here is amazing.
I have one fur baby, my mutt, her name is Bagel. Tug a war is her favorite game and I love to take her for walks at the Mineola Nature Preserve.
Angela Barncord, CVA 3

Certified Veterinary Assistant Level 3
I was born in New Mexico at Holloman Air Force Base in Alamagordo, and have lived all over the world — Military Brat! In 2003 I worked at Ft. Bliss Veterinary Treatment Facility and knew this was what I wanted to do. I moved to East Texas in 2005 and was hired at Quitman Animal Clinic. I am a CVA III— working towards my LVT.
I have a wonderful husband, Danial, and two daughters, Katerina and Nicolle. We have multiple pets. I love spending time with family, going to my parents, reading, cross stitching, walking the dogs, and dancing.
Brenda Caldwell, CVA 2

Certified Veterinary Assistant Level 2
I have worked in the animal field for over ten years, including three years working with exotic animals such as ring-tailed lemurs, zebra, elk, tapers, and wild cats. For three years I ran a kennel, worked with cattle and horses, and helped in surgery with the boss. I have always loved animals and grew up knowing I would work in this field — I have been at Quitman Animal Clinic since 2005 and I love my job! I am a CVA II Certified Tech, and am working on CVA III.
I have a wonderful husband, Joe; two daughters, Rachel, and Lacy, and a grandson Hunter. A firefighter for the past nine years, I hold an array of certifications including First Responder, NIMS, and CPR. I believe that "if you stop learning you stop living". I enjoy riding motorcycles, long walks, fishing, dirt track racing, and being outside with family, friends, and animals. I have cats & dogs, and 20 year old tropical fish!
Joseph Gaines, CVA 1

Certified Veterinary Assistant Level 1
My name is Jospeh Gaines and I am new to Quitman Animal Clinic. I grew up around the Oklahoma - Texas border. My wife, Lisa Gaines is a second grade teacher at Alba-Golden ISD. I have four kids, Jessica, Dodge, Shyann and Forrest. We enjoy spending time with our families and being outdoors. We have three Scottist Terriers. I have always loved animals, and have prayed for a job where I could do what I love for the last five years, and God has opened this door. So I am really excited to see where He takes me.
Brittany Lui, CVA 1

Certified Veterinary Assistant Level 1
My name is Brittany Lui. I am a graduate of UT Tyler class of 2017. I hold a degree in Education, but I recently joined the family here at Quitman Animal Clinic. I consider myself a lifelong learner and can't wait to learn all about the animal care world! I reside in Winnsboro with my awesome husband, Chris, and our wonderful stepdaughter, Aidynn. I have many fur babies, including four dogs, three cats, and one cow. I enjoy spending time with my family, gardening, baking, and playing tennis.
Melissa McPherson, CVA 3

Certified Veterinary Assistant Level 3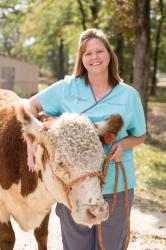 I have been with Quitman Animal Clinic since September 2008, with the hope of many more years to come. The love of being around animals and helping take care of them inspires me, especially the satisfaction I get when I've made someone happy by helping their loved one feelbetter. My mom says I have always wanted to work with animals, from the time I was a little girl. Short story about me: We had just moved to the area when one of my cats got sick. I took him to the vet and that's how I met Dr. Bennett and the gang at Quitman. He really took his time talking with us and since we were new to the area that meant a lot.
Now I am part of the Quitman Animal Clinic family and enjoy my job each and every day. I live with Wyatt, my son (he loves lizards, frogs, snakes). We love to go fishing, boating, and hunting, and just being outside together. I like to be outdoors, and also enjoy shooting at the range. My pets are: Cats Furby, Fuzzy Fishstick, and Firecracker; Dogs Camo and Maxx; show pigs and a goat.
Juan Perales

Veterinary Technician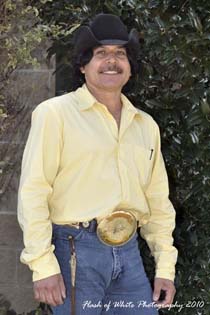 I have been with Quitman Animal Clinic since 1978, starting as Dr. Dawson's second hand. I work with both small and large animals, but have a special interest in small animal anesthesia and dentistry. I am married with three children. You will easily recognize me by my starched shirt and black cowboy hat!
Colo Santos

Veterinary Technician/Barn Manager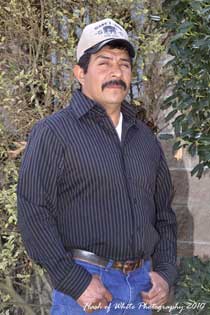 I have been with Quitman Animal Clinic since 1983. I enjoy working with both small and large animals, but can usually be found in the barn wearing my ball cap. I am married with a son, Nestor, and we reside on a small farm north of town.
Ashley Wallace, CVA 3

Certified Veterinary Assistant Level 3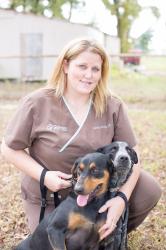 I was born and raised in Alba, Texas. I started working at Quitman Animal Clinic September 2012, but I've had the privilege of working as a technician for 15 years. I just recently became a CVA III.
I have one daughter and two sons. I also have three dogs; "Copper", "Festis" and "Gracie". We also have one cat named "Camo". When I'm not working, I like to spend time with my kids and watching their sports. If we're not on the court or in the field, you can find us at the lake!